Lucky Harvest Project has a new web site which is Lucky Harvest Project New Web Page http://www.luckyharvest.org
Please note that I'm no longer involved with Lucky Harvest Project as my son and I have moved on into other areas of interest. This page is for info only and is no longer current. While not being involved, I do wholly support the great work they do.
Lucky Harvest Project (LHP) is a therapeutic riding program for persons with disabilities. LHP was founded in december 1990 by persons with disabilities, parents and other persons with interest in therapeutic riding. We are incorporated under provincial law and are recognised as a charitable organisation by the federal and provincial goverments.
Lucky Harvest Project is the first full-time therapeutic riding program in Quebec and is affiliated with the Canadian Therapeutic Riding Association (CANTRA).
The aim of the program is to promote horseback riding as a physical, psychological and emotional therapy for persons with disabilities. In a period of goverment budget cuts, social programs are often the first ones cut and persons with disabilities are also often affected by these reduction in services. If one has the means or the proper insurance coverage, they can sometimes get services from private practice which is seldom the case for persons with disabilities. LHP is a precursor of new therapeutic programs in the future. Therapeutic riding has proven itself in many countries and other provinces in Canada. The riders are supervised by their health professionals and the riding program by certified instructors, assistant instructors and a very valuable group of volunteers. Therefore the cost of the services offered are much cheaper than regular therapeutic services.
We are looking for volunteers, sponsors, donations and professionals for various facets of our program from horse care, sidewalking to fundraising. Our main expenses is the upkeep of the horses and equipement. Our funding has been mainly through private donations, social service club donations and fund raisers. There has been few government grants to help. We are presently operating with horses that were donated to the program and equipment that has been either loaned, donated or purchased. For more information on Lucky Harvest Project or for therapeutic riding for persons with handicaps please contact the persons below or write to L.H.P., 1900 Route 202, Hinchinbrook, Qc J0P1S0 Tel 450-264-0282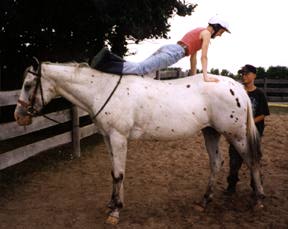 Click here should you like to send an e-mail for more information and or comments